Over recent times the Red Light area of Amsterdam has seen something of a transformation from the seedy and sleazy poor man's playground of peepshows, sex shops and prostitutes into yet another regenerated area you can feel safe in. It's such a shame as Amsterdam has now turned into a city much like any other.
One word of advice if you're thinking of taking your camera into the Window area and snapping a few covert shots for posterity and to show your mates on your return is basically don't. I've heard stories about tourists blatantly popping off the odd shot here and there and then being confronted by a surly gorilla demanding you erase your snaps and in some cases throwing the said camera into the canal.
Of course should you want photos of the area and some of the sexy chix of the Red or even the blue light area you might want to have a look at Red Light Sex Trips online.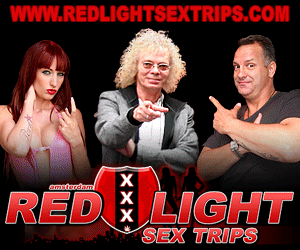 Besides the red light district of the City centre (in the Walletjes area between Central Station and Nieuwenmarkt) that many a tourist knows there are a number of other areas in Amsterdam which hold a number of Windows. These are Singel (between Raadhuistraat and Central Station) and de Pijp behind the Rijksmuseam.
Simply go visit these areas and let your feet do the walking as your eyes do the wandering.
Should you on the other hand be looking for a prostitute of a different gender you might like to check out the Blue Light area of Amsterdam where you will find TGirls, Lady Boys & Transsexuals. Most are imported from Thailand and South America although there are one or two Europeans. This area can be found on a side street just off Waarmoestraat nearby the MR B Gay sex shop.
Remember 2 things when you visit these ladies, they're human just like you and i and should be treated with utmost respect. In many other countries Prostitution is illegal, not so in the Netherlands where it is legal and therefore a prostitute has legal right to trade her profession.
Although i'm not one to frequent Coffee shops (that's the smoking variety) they are reported to be on the decline as the city appeases Brussels dictatorial rules. Between the years of 1939 & 1945 our relatives fought against oppression of Nazi Germany and we swore we would never let this happen again. Yet here we are in 2012 but with a different kind of oppression in the form of EU rules. The Dutch for some reason really like their rules and rarely oppose them as they simply get on with life and work around them.

I'm sure that some welcome the change and what Brussels are doing yet I am sure there are many who would like Amsterdam to be treated that little bit differently and allowed to chuck out the rule book and continue how it was done in the past.
All is not lost though as there are still some very good attractions to see in the Red Light District.
One such enterprise making its debut on 9th September is "Red Light Cabaret" a Sunday afternoon stage show featuring the best in Avant Garde, Neo Burlesque Twisted Cabaret as performed by a band of highly talented artists such as Shai Shahar http://www.shaishahar.com Rachael V, Cerise Noir, Lilly Mae Lovett http://www.lillymaelovett.com/ and a host of others.
Ticket price a mere EUR25 which you are encouraged to buy online or at the door.
See http://redlightcabaret.nl/ for further information.